The Mormon Battalion

was the only religious unit in United States military history in federal service.  It was recruited solely from one religious body and was the only one having a religious title as the unit designation. The volunteers served from July 1846 to July 1847 during the Mexican–American War of 1846–1848.  Recruited in Iowa in July 1846 due to the Mexican-American War, the battalion was tasked with carving a southern wagon train route to San Diego.
In Western states like Arizona and California where surface water rights are loosely based on "first in time, first in right," researchers will find references to the Mormon Battalion when researching water rights.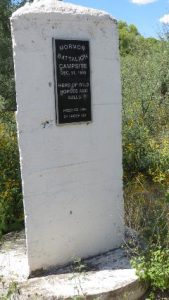 For instance, in 1846, the Mormon Battalion camped along the San Pedro River in Arizona.  Their camp site later became the settlement of St. David, Arizona

.  Tasked with documenting unusual markers in the state, the Arizona Department of Transportation

writes,
Travelers heading westbound on State 90 toward Sierra Vista might spot a small stone marker painted white on the north side of the highway, just before crossing the San Pedro River.

For those who have time to stop and investigate, they will find a plaque on the stone slab commemorating a small but interesting bit of Arizona history: the Mormon Battalion and the "Battle of the Bulls."

Despite a 2,000-mile march, mostly across Mexican and Native American territory, and their occupation of the pueblo of Tucson, the battalion only fought one "battle" during its year in service. While camping alongside the San Pedro, the men's presence attracted the attention of wild cattle that had been abandoned by Spanish or Mexican ranchers. The herd's bulls stampeded, leading to a short skirmish that saw three men wounded, two mules gored and more than 10 of the bulls shot.

This marker was set up by Boy Scout Troop No. 21 in 1960 to commemorate the event, dubbed later the "Battle of the Bulls.
The Battalion finally made it to the Colorado River at Yuma, Arizona, in July 1847, where they faced hardships.  A monument stands where the Mormon Battalion finished is 2,000-mile trek.  The Mormon Battalion Association has published a video

of the re-enactment of the historic journey.
Header image Credit: Mormon Battalion Trail – In 1846 in Dateland, Az., Author: Marine 69-71, December 4, 2018. Wikimedia Commons

.