June 13, 2023 — Utah's Crystal Geyser, a peculiar geological structure mostly formed by human intervention, is nestled on the Green River's bank, roughly 10 miles south of the Green River town. Born out of an oil exploration attempt in 1936, it tapped into an underground aquifer under considerable pressure due to a trapped carbon dioxide reservoir.
The pressurized groundwater system already played host to a string of natural springs and tufa deposits, first documented by John Wesley Powell in 1869

. Powell, while journeying from Green River town's current location and the state park museum, which now celebrates his name, expressed his fascination for the fascinating rock formations, the products of now-vanished mineral springs (Powell, 1875, Report on the Exploration of the Colorado River of the West and Its Tributaries,

p. 51–52).
Declining Activity.
According to Utah's Geological Survey, Crystal Geyser's height and frequency of eruptions have seen a notable decline in recent times. One significant contributor to this problem is believed to be visitors who threw rocks into the borehole, forming a considerable obstruction less than 50 feet down. However, no concrete steps have been taken to remove these obstructions despite the plans being drafted. Attempts to pressure cap the geyser to increase eruption frequency or reliability also remained in the planning stage.
Given that significant eruptions often have intervals exceeding 24 hours and may occur late at night, witnessing these spectacular events can be a challenging and time-consuming endeavor. Past research spanning two decades used sensors to determine the exact frequency and height of eruptions. The results showed minor eruptions being fairly erratic, with heights varying between 2 and 10 feet. Major eruptions, in contrast, could reach between 40 and 80 feet and occurred every 17 to 27 hours. The duration of these eruptions varied from 3 to 49 minutes.
A Spectacular Sight for Patient Visitors.
Over the years, the Crystal Geyser has remained a source of fascination for tourists. Those patient enough to await its eruptions are rewarded with the rare sight of one of the few large cold-water geysers globally.
KSL.com

has reported that the recent rainy winter has revitalized the Crystal Geyser. It now erupts more predictably, attracting visitors from across the globe to witness this natural spectacle.
In mid-May, Utah's Division of Water Resources posted an enthusiastic tweet:
Crystal Geyser (in Grand County) is erupting!💦Our division geologist monitors this site & hasn't seen an eruption in years, but this year's wet winter might have caused the water table to rise, resulting in CO2 gas that powers the eruptions to push water through. #KnowYourH2O pic.twitter.com/hWgrORxT2w

— Utah Division of Water Resources (@utahwaterres) May 15, 2023
Getting There.
Directions and a map are available from the Utah Geological Survey

, which writes:  "Access Crystal Geyser from I-70 exit 164, at the east end of the town of Green River, Utah. From there, head east for 2.4 miles on the frontage "New Area 51 Road" to the junction with "Crystal Geyser Safari Route." Follow this well-graded dirt road south then west for 4 miles until arriving at a parking lot adjacent to both Crystal Geyser and the Green River boat access. Warning: Roads may be impassable in wet weather or winter conditions."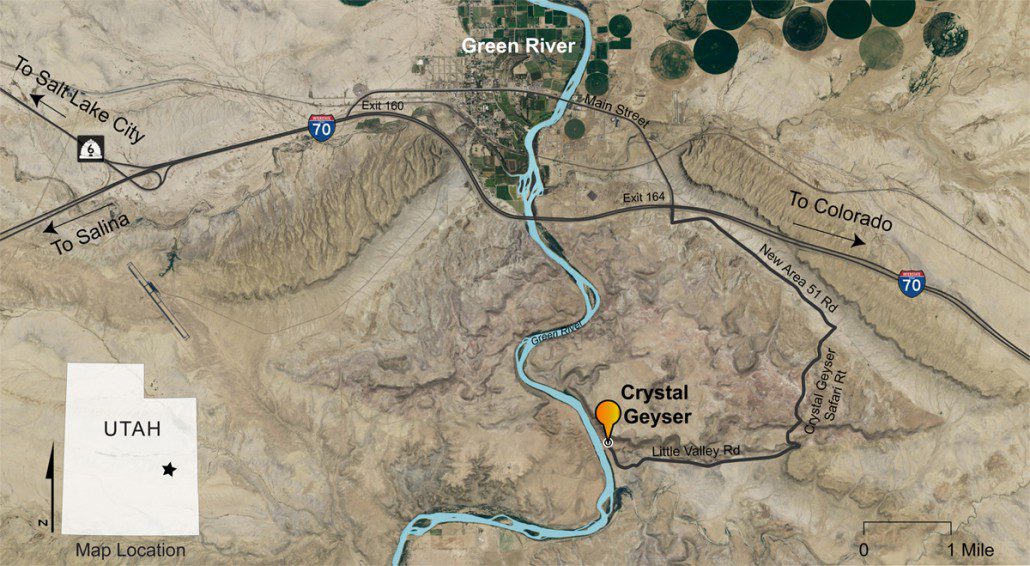 Banner image:  Crystal Geyser erupting, Utah Geological Survey

.