July 17, 2023 — In June, the Southwest, including Colorado River Basin states like Arizona, California, Colorado, New Mexico, Nevada, Utah, and Wyoming, experienced varied weather conditions. Looking ahead, the National Oceanic and Atmospheric Administration's Climate Prediction Center (NOAA's CPC) has made predictions for July 2023.
Temperature Projections.
While the Southeast and East Coast are expected to face above-average temperatures, Wyoming, northern Colorado, and other western Plains regions might experience lower than average temperatures. These predictions account for long-term forecast models, including the Climate Forecast System.
Precipitation Predictions.
According to the NOAA's predictions, July is likely to be drier than average for the Southwest. This forecast is largely based on the developing El Niño event, which tends to delay the usual summer monsoon precipitation. However, probabilities are moderate because potential monsoon surges could be triggered by Hurricane Beatriz in the eastern Pacific.
Drought Status and Outlook
As of June, drought levels in the U.S. rose from 19% at the end of May to 27% at the end of June. But it's noteworthy that much of this qualifies as only moderate drought, while severe categories (extreme and exceptional drought) decreased slightly to under 3%.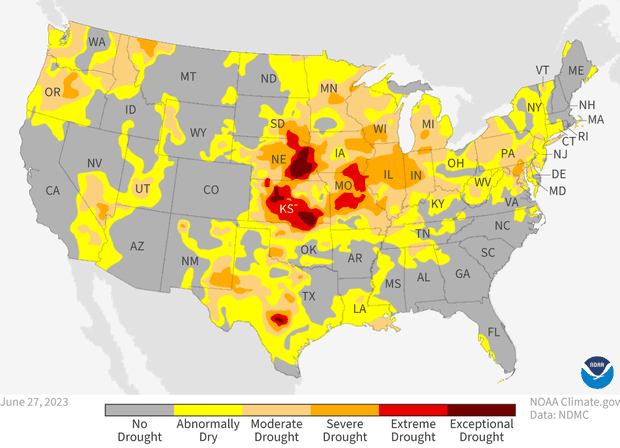 For July, drought conditions are likely to persist in the Southwest, particularly southern New Mexico, due to the expected weak early monsoon activity. Overall. NOAA says these are the most probable outcomes, but other less likely outcomes are always possible.
These predictions help in creating more effective water and disaster management strategies for the Southwest and Colorado River Basin States.