"The new normal. What exactly does that mean? Ask a Colorado farmer and you are likely to hear a common word: dry," reads the agricultural "drought stories" section of an interactive information portal created by the Colorado Water Conservation Board, Colorado Department of Agriculture and Colorado State University.
In its "interactive drought tour," visitors to the site can click on pins marked throughout the state's map and discover relevant news stories from ranchers, growers and other agricultural producers about how the drought is affecting their enterprises and what they are doing.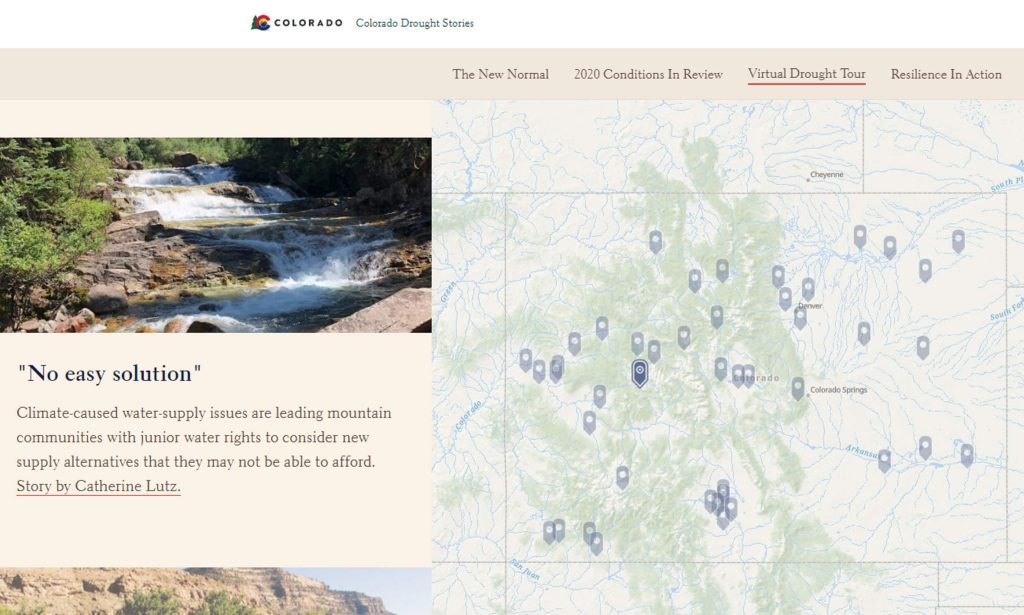 The Colorado Water Conservation District

offers an impressive public outreach at its "engage" website, with a schedule of upcoming meetings and workshops, information on the State's water management plan, municipal and agricultural drought impact reports and a possible demand management strategy.
Created over 80 years ago and almost fully self-funded, the Colorado Water Conservation District

represents each major water basin in the state, the Denver Metro Area, and other state agencies in a joint effort to use water wisely and protect the State's water for future generations.  Excluding the Denver Metro Area, the eight major water basins represented by the District include:
South Platte
Arkansas
Rio Grande
Southwest
Gunnison
Colorado
Yampa/White/Green
North Platte
Founding Legislation:  Colorado Water for the 21st Century Act